<! --- put the left menu bar html here --->
<! -- space between buttons and main page -->
<! -- now the body... -->



South Korea

Seven researchers from the Korea Institute of Geoscience and Mineral Resources and the Korea Meteorological Administration participated in the May 2008 ElarmS Users Group Workshop at UC Berkeley. During the workshop they processed data from several events in South Korea. Here we show the results from just one event, the largest.
---
M4.8 January 20, 2007, South Korea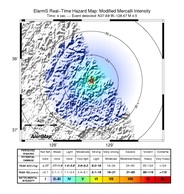 The initial magnitue estimate for this event is 4.5, it then climbs solwly to 5.1 and finishes at 5.0. The location is good as are the ground shaking preditions. This event was processed using the standard scaling relations developed for southern California. The second-by-second predictive AlertMaps output by Elarms can be viewed.
---
Acknowledgements
This event was processed and made available by Dr Dong-Hoon Sheen, Dr Heon Cheol Chi, Dr Jung Ho Park and Mr Geunyoung Kim of the Korea Institute of Geoscience and Mineral Resources.
---